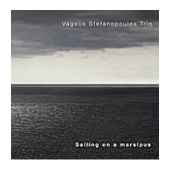 Stefanopoulos Vagelis Trio
Sailing On A Marsipus
Label: Vagelis Stefanopoulos
Genre: Jazz / Avant Garde
Availability
CD Digi / Cardboard €11.99

In Stock
Vagelis Stefanopoulos is a pianist and composer based in Athens. He is characterized by his colleagues and audiences as a lyrical musician capable of evoking moods and colors out of his instrument. As a composer he shows a natural feel for polyrhythms and warm harmonies that accompany his lyrical melody writing.
Early in 2011 he founded the "Vagelis Stefanopoulos Trio" with bassist Petros Varthakouris and drummer Yiannis Angelopoulos. The trio released its debut CD "Sailing on a marsipus" in January 2012 featuring world famous jazz vocalist Jd Walter. The album acclaimed favorable critics and the launch was a sold out event in one of the most prestigious venues in Athens the "Benaki Museum".
Vagelis is an active member of the Greek Jazz scene having toured all over Greece and Cyprus. His debut project "Jazznovation" is still echoing around the music scene in this country as well as having received favorable critics abroad. He has collaborated with many different artists in his career always managing to adapt and contribute with his personal style into each instance. Some of them include Adedeji Adetayo's Neo Yoruba People in which Vagelis is a resident member since 2009. Also offered his experience and musicianship into the making of Adedeji's debut CD "Ajo". Vagelis is also the musical director of "Q Orchestra" for which he will be featured with his piano trio in the up coming album "Movin on". Also he is performing with and arranging for "Smokey Bandits" ensemble.
Vagelis graduated in 2005 from the Trinity College of Music in London with Bmus Honors degree, where he studied classical piano with Kaoru Bingham, Matthijs Verscoor and Yonty Solomon amongst others. During these years he embarked on the world of improvised music through studying arrangement and musical direction, transcribing Jazz music and playing with various Jazz and Ethnic projects.
Performance appearances include: Royal National Theatre (London), Documentary Festival (Thessaloniki), European music day (Athens), Ermoupoli Festival (Syros), Vlasti Earth Festival (Kozani), African Festival (Athens), Benaki museum, Gazarte live stage. He has shared the stage with JD Watler, Deborah J. Carter, Mark Zandveld, Aldo Lopez Gavilan, Sara Leib.