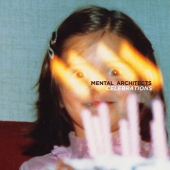 Mental Architects
Celebrations
Label: Mental Architects
Genre: Post Rock / Avant Rock
Availability
CD Digi / Cardboard €9.99

In Stock
All songs were written and recorded by the Mental Architects at "The Shelter" and "Loud Fi studios".
Additional guitars on "When Sound Turns Into A Person He Becomes One Of Us" by Joseph Andreoli.
Additional keyboards on "Caves Of Keys" by Bryant Clifford Meyer.

Produced and mixed by Aaron Harris.
Mastered by James Plotkin.
Artwork and design by Trash Lovers.