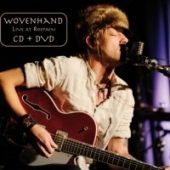 Wovenhand
Live At Roepan
Label: Glitterhouse
Genre: Rock / Pop
Availability
LPx2 + DVD €27.99

In Stock
A Wovenhand gig always is a special event, this is not your average rock & roll concert; this is a life-changing experience.
An experience that also works on a musical level: Ordy Garrison (drums), Pascal Humbert (bass, guitar) and Jeff Linsenmeier (keyboards) melt into David Eugene Edward's guitar- and banjo-playing, support his vocals and his shamanic spoken work passages and form a powerful entity that masters everything from the most filigree and quiet sounds to an intense rock crescendo that puts most metal bands to shame.
This exact line-up (Edwards, Garrison, Humbert and Linsenmeier) plus Greek percussion player Lukas Metaxas played a gig in an old church in
Ottersum (Netherlands) in October 2010. An ancient building well known for its very special atmosphere and amazing acoustics, the room was the perfect setting for Woven Hand's first live album - Live At Roepan. And due to high-end recording facilities the sound is sensational and of course, without overdubs. Every song (three stem from Folklore, 16 Horsepower's swan song) is a significant progression from the studio version and the whole album acts as the missing piece in the band's recorded output.
On top of this both the CD as well as the 180 gram double-vinyl version will come with a DVD of the gig, filmed on location with 8 cameras by
WDR's Rockpalast crew. And last but not least Live At Roepan features the complete magical evening and adds 20 minutes to the original
Rockpalast television broadcast.
This live album is not only a must for every fan; it sets the standard for all future audio and visual live releases. And it is the ideal entrance into
David Eugene Edwards' wonderful and unique musical cosmos!