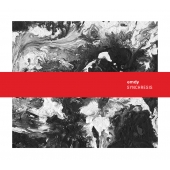 Emdy
Syncresis
Label: Emdy
Genre: Jazz / Avant Garde
Availability
CD Digi / Cardboard €11.99

In Stock
"Synchresis", a manufactured word consist of an acronym, formed by telescoping together the words of synthesis,crisis and synchronisation.
Released on spring of 2012 by emdy, follows a clear-cut experimental agenda, engaging with contemporary fields of electronic and electro-acoustic music.
An amalgamation of detailed sound design that ranges across various styles, creates the sense of contrast between the experimentalist scene and music simplicity.
Managing to remain musically intense and emotional by the use of classical instruments, percussions and a poem among the electronics, stretching creativity and multiplicity in the production and composition development.