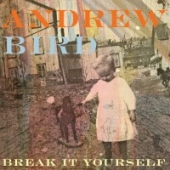 Bird Andrew
Break It Yourself
Label: Bella Union
Genre: Rock / Pop
Availability
CD + DVD €6.99 Nice Price

Out of Stock
Deluxe edition, includes "HERE'S WHAT HAPPENED" DVD

One could arguably describe Andrew Bird as the quietest, most exquisite big deal in the music business. His last album Noble Beast (2009) sold 150,000 copies in the US alone and debuted on the Billboard chart at #12. He also has cumulative album sales of well over half a million and is fast becoming somewhat of US TV veteran after appearances onThe Late Show with David Letterman and The Tonight Show with Jay Leno.

In the intervening three years since Noble Beast, Bird, a man who sometimes structures his live sets by selecting thematically linked songs, has continued the rigorous touring that has made him one of the hottest concert tickets around (and not just in the United States where he played to 50,000 people on his headline tour for Noble Beast - a barely announced headline show at London's Barbican Centre in the spring is nearly sold out).

He's also settled down in New York and become a father, soundtracked the highly acclaimed movie Norman, contributed to the open ended reinterpretations ofCongotronic favourites Tradi-Mods V Rockers, and collaborated on the Sonic Arboretum project with Ian Schneller, trained sculptor and founder of the Chicago School of Guitar Makinghttp://mcachicago.org/performances/now/all/2011/742

First staged at New York's Guggenheim Museum in 2010, where Bird performed through some fifty of Schneller's amazing handbuilt speaker horns placed all round the venue, this ongoing experiment has been hosted this December at Chicago's Museum of Contemporary Art, with Bird providing new site specific compositions.

Let's commence with the self-produced new album Break It Yourself. It was put together in a more traditional way, recorded to eight track at Bird's barn in Western Illinois with a core group of drummer Martin Dosh, guitarist and keys man Jeremy Ylvisaker and Mike Lewis on tenor sax and bass. "It started out as a glorified rehearsal, the opposite of production, four musicians playing in a room together," he says, eager to avoid the traps of modern recording. "Too many records sound like a series of decisions, not a performance."