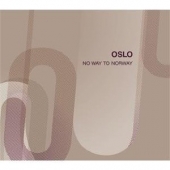 Various Artists
No Way To Norway
Label: Oslo
Genre: Techno / Tech-House / House / Trance
Availability
CD Digi / Cardboard €7.99 Nice Price

In Stock
Oslo's debut compilation CD 'NO WAY TO NORWAY', which is compiled and mixed by its label head Federico Molinari, attempts to put the focus firmly back on the DJ.

The special mix CD contains only unreleased and exclusive tracks from 20 of the most exciting producers in underground house and techno. And in a major break from tradition the mix album does not have a tracklist. Instead it comes with only an alphabetical list of the artist contribu­tors, which means the listener will not know which producer made each track. That's not to say that the Mannheim-based label doesn't respect its artists. On the contrary, by keeping the CD's tracks completely anonymous it allows the listener to fully immerse them­selves into the mix without prejudice. And with all of the contributors shown equal respect and disregard, the listener is more able to fully appreciate the artistry behind the mix.

Altogether 20 known and respected artists (mostly Oslo favourites, some new to the label) provided 18 exclusive and unreleased tracks for 'NO WAY TO NORWAY'. They are: Christian Burkhardt, Damián Schwartz, Einzelkind, Ernesto Ferreyra, Franco Cinelli, Guillaume & The Coutu Dumonts Feat. Qzen, Ivel Tax, Johnny D, Juan Sorrentino, Skipson, Leonel Castillo, Maayan Nidam, Michael Melchner, Markus Fix, Noidoi, Reboot, Ray Okpara & Nekes and Sascha Dive.