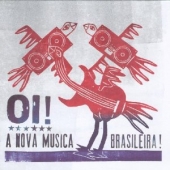 Various Artists
Oi! A Nova Musica Brasileira
Label: Mais Um Discos
Genre: Freestyle / Nu Jazz / Funk / Afro
"I was blown away when I heard (Oi! A Nova Musica Brasileira!). It wasn't just one or two tracks… most of it was sensational. What you're doing in Brazil is amazing" Gilles Peterson
Mixing Brazilian styles such as tropicalia, manguebeat andwith rock, pop, new wave and electro "Oi! A Nova Música Brasileira!" is the sound of the Brazilian alternative/ leftfield scene now and features a dizzying array of mind-blowing new Brazilian genres.
Compiler Mais Um Gringo explains how the album came about: "All the Brazilian compilations I found either offered a tired mix of nu-bossa and nu-samba or were titles covering niche genres like baile-funk. I was looking for an album that provided an overview of the most exciting new Brazilian music across all genres"
Following months of 21st century crate-digging – trawling blogs and websites for the hottest artists and tracks – compiler & owner of Mais Um Discos Mais Um Gringo set off to Brazil in late 2009. From Sao Paulo's thriving singer-songwriter scene to the fertile manguebeat scene of Recife via the tecnobrega rave heartland of Belem and rock city Goiana, he left no MP3 unheard of ending up with a wishlist of 40 artists from 14 Brazilian states.
"The artists that really excited me were those who mixed Brazilian styles with more western influences such as new wave, rave, electro, dub and indie to create Brazilian music that was both foreign yet familiar. Western artists have always taken musical inspiration from Brazil yet thanks to affordable music equipment and widespread broadband Brazil's young musicians are now redressing this balance. 'Oi!" is this generation's calling card."