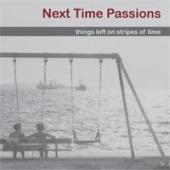 Next Time Passions
Things Left On The Stripes Of Time
Label: Midge Eras Record Club
Genre: Rock / Pop
Availability
CD Digi / Cardboard €9.99

In Stock
The first complete album from Next Time Passions is real!

"Things left on stripes of time" is a 10 song CD which had been recording in Athens during 2010. It contains some new songs that the band compose after to their reunion ("Fly", "All I want", "Going there", "Never been kissed" and "Last notice") and some older ones that the band had never record before.



This CD engineered and mastered by Makis Petratos . Cover photo and artwork created by BillPos.


This release comes in a folding 6 page pack with lyrics of the songs printed on the inside.