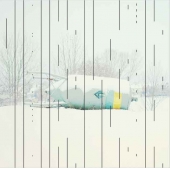 Inverz
My Machines
Label: Granny
Genre: Electronica / Ambient / Experimental
'My machines' is inverz's (Savvas Metaxas), fourth release to date. The LP's six tracks were recorded between autumn and winter of 2010.
The album was mastered by Giuseppe Ielasi in Milan and cut by Rashad Becker at Dubplates and Mastering in Berlin.
In 'My machines' inverz focuses on the collection, process and reproduction of old vinyl records wich are then combined with sound samples from musical and non-musical sources, resulting to a dark-ambient soundscape.
O δίσκος 'my machines' είναι η τέταρτη δισκογραφική δουλειά του inverz ή αλλιώς Σάββα Μεταξά. Ηχογραφήθηκε το φθινόπωρο και τον χειμώνα του 2010 και αποτελείται από 6 κομμάτια.
To mastering του LP έγινε από τον Giuseppe Ielasi στο Μιλάνο και η παραγωγή έγινε από τον Rashad Becker του Dubplates and Mastering στο Βερολίνο.
Στο 'my machines' η μουσική του inverz επικεντρώνεται στην συλλογή, επεξεργασία και αναπαραγωγή παλιών δίσκων βινυλίου, τους οποίους συνδυάζει με δείγματα ήχου από μουσικές και μη πηγές, δημιουργώντας ένα σκοτεινό ambient ηχοτοπίο.