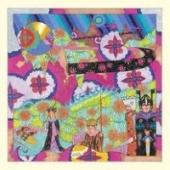 Pg Six
Starry Mind
Label: Drag City
Genre: Rock / Pop
Availability
CD Digi / Cardboard €18.49

Dispatched within 5-10 working days
The first pronunciations in four years from the tower of P.G., these songs are borne on waves of electricity, sounding fresh and clear as ever.

The P.G. Six band plays with power and unity. Even in changed circumstances, the essence is undeterred.

The P.G. Six band on 'Starry Mind' includes Bob Bannister and Robert Dennis, both veterans of Tono-Bungay and Fire In The Kitchen. In addition, the legendary Tara Key (Antietam) guests on one track.