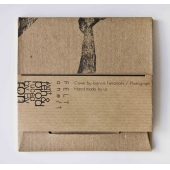 Vincent Kuhner
No Minute Gone Comes Ever Back Again Take The Need And See Ye Nothing Do In Vain
Label: Felt Collective
Genre: Electronica / Ambient / Experimental
Availability
CD Digi / Cardboard €11.99

In Stock
Limited edition of 80 CDrs
Artwork by Ioannis Fanariotis hand stamped on arigato cases
'warped' with logo/credits paper strap made by recycled paper
Photograph by Nefelie PD printed on 4.5′x4.5′ photographic paper
Includes a Moo printed download card
Everything else was printed/trimmed/'burned' at Home Sweet Home facilities
Following an introduction to music connoisseurs via the four track EP Hiatus, released on Audio Gourmet, Byron now sets himself yet more firmly into the consciousness of the international experimental music scene with his first physical full-length release, No Minute Gone Comes Ever Back Again Take The Heed And See Ye Nothing Do In Vain.
The album's mammoth title reflects the epic journey taken to arrive at this point, so let us start from the beginning; With a long lasting love of music, Byron was inspired to wander down a noisier path by artists such as Fennesz and the rest of the Type Records roster. Unlike the legion of wannabe's and sound-alikes though, Byron was not content to merely copy the work of others. Rather, he used the likes of Fennesz and fellow noise-maestro luminaries as a starting point for his own journey, arriving at a destination wholly his own.
Work began in earnest three years ago, following Byron's relocation from his native Athens to London and then interrupted by life's usual vicissitudes. Following more travels, to Rotterdam, to Athens and, finally, Berlin, Byron resumed his craft and record a work both beautiful and at times ugly, coarse and challenging and immersive.
Finally Byron arrived with music he could be proud of and a digital version was made available for consumption. But this was not enough for the perfectionist guitarist and a year later Byron decided to revisit his work and remix the tracks with a fresh perspective and a new insight into what makes these tracks so special. The end result is here, eight pieces of ambience, which cover an entire spectrum of sound, from white noise to gentle tones and everywhere in between. Truly this is a work of exploration, both for listener and artist – an audial journey which ignores known boundaries and exceeds all expectations.