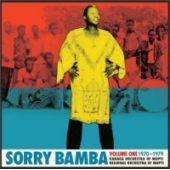 Sorry Bamba
Volume One 1970 - 1979
Label: Thrill Jockey
Genre: Freestyle / Nu Jazz / Funk / Afro
Availability
CD Digi / Cardboard €16.99

Dispatched within 5-10 working days
· This release compiles rare tracks from Mali's Sorry
Bamba. Sorry's greatest legacy is his time as the
leader of the Regional Orchestra Of Mopti, which
later became known as the Kanaga Orchestra, and
it is this period documented on 'Volume One 1970
- 1979'.
· Many of these songs are previously unreleased
and most are highly sought after as originals are
nowhere to be found.
· Alex Minoff and Ian Eagleson (both of Extra
Golden) have worked closely with Sorry Bamba to
compile and fully restore this collection of songs
for official release.
· CD version comes in a 4 panel mini-LP style
gatefold package with 4 page booklet of photos
and notes.