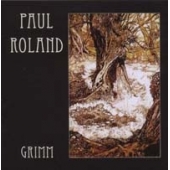 Roland Paul
Grimm
Label: Syborg
Genre: Rock / Pop
Availability
CD €15.99

Dispatched within 5-10 working days
England's psychpop guru Paul Roland, dubbed 'the male Kate Bush' by one time label mate Robyn Hitchcock, releases his first new album for two years on German label Syborg music.
All of the songs on 'Grimm' were inspired by the dark fairy tales of the Brothers Grimm but given a baroque chamber pop setting by Paul, whose highly original character-rich narratives have earned him the title of the 'Edgar Allen Poe of Pop'.
For the first time Paul plays all the instruments on the album and also narrates two stories which he re-wrote as spoken word bonus tracks based on two of the Grimm Brothers lesser known tales, re-written and read by Paul Roland himself.
Paul has been lauded in Europe where he toured extensively in the 80s and 90s regularly selling out venues of 5,000 or more, but he remains criminally underappreciated in his native Britain.
As 'Record Collector' recently remarked, "Why can't we acknowledge our own geni?" Well, now is a chance to discover the man they call 'the lost genius of pop'.