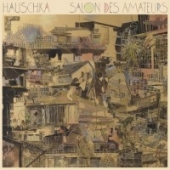 Hauschka
Salon Des Amateurs
Label: Fat Cat
Genre: Electronica / Ambient / Experimental
Availability
CD €16.99

Dispatched within 5-10 working days
• Brand new album centred around Hauschka's sublimely unique take on techno and house music for prepared piano.
• 1200 word Sunday Times feature published in January.
• Series of specially selected live dates booked with multiple musicians, including some dates with Calexico, múm and Modest Mouse drummers.
• Hauschka will perform at the Barbican for the Steve Reich Reverberations weekend festival in May.
• A Brighton performance showcasing FatCat's 130701 artists (Max Richter, Hauschka and Dustin O'Halloran) has been confirmed for the Brighton Festival / The Great Escape in May.
• Hauschka also scored three tracks on Frightened Rabbit's acclaimed album 'The Winter of Mixed Drinks'.
• This album will appeal to fans of Max Richter, Johann Johannsson, Dustin O'Halloran, the Kompakt and Basic Channel labels.
• "Electronic music from an acoustic instrument... Nothing short of astonishing" - MOJO; "Clacking, scraping and hammering amid chilly piano and forlorn strings [that] creates, as if by magic, a factory of percussion" - NME; "Deconstructs most preconceived notions of music yet manages to create something astounding and accessible in the process. Brilliant" - The Fly.