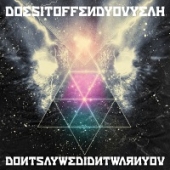 Does It Offend You, Yeah?
Don't Say We Didn't Warn You
Label: Cooking Vinyl
Genre: Stoner / Post Metal / Industrial Rock
Don't Say We Didn't Warn You", is an album that surprises and astounds at every turn; unpredictability is king, no barrier is left un-demolished. It's a spectacular rebirth, a breaking out of boxes.

It is the follow up to 2008's "You Have Know Idea What You're Getting Yourself Into", an album that was too spikey-around-the-edges to fit into any genre and saw the band confounding expectations at every turn. But DIOY,Y? blew up big, making a huge impact on the gig scene with their incendiary live performances, remixing everyone from Muse to Bloc Party to The White Stripes, and damn near breaking America, going on missions of electro conversion across North America in support of The Prodigy, Nine Inch Nails and Linkin Park and their own sold-out headline tour.

Their new album, "Don't Say We Didn't Warn You" is compiled from the "million" songs that DIOY,Y? self-recorded - over six months in a tiny studio in Reading towards the end of 2009 and in piecemeal bedroom 'n' kitchen sessions throughout 2010.

"This is our break-out album" says Dan. "It has got balls-out angry stuff and serene melancholic, quite depressing stuff as well. We'd rather show all our hands like that rather than write a whole album that sounds the same."

A good plan, since this is hair-raising stuff: a laser blast from the underground, future rock rebels running riot. Don't say they didn't warn you.