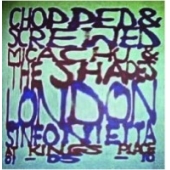 Micachu & The Shapes / London Sinfonietta
Chopped And Screw
Label: Rough Trade
Genre: Electronica / Ambient / Experimental
Availability
CD Digi / Cardboard €4.99 Nice Price

In Stock
The Sinfonietta invited Mica Levi, Micachu & The Shapes'
frontwoman, to compose a series of pieces that would reflect her
interests and influences, whilst giving the Sinfonietta an opportunity
to develop a relationship with a young and exciting composer. She
then presented the ideas of Shapes Raisa, Marc, alongside her own,
to the Sinfonietta's players, who then helped the trio to expand and
enhance their ideas during a series of workshops prior to the concert.

The concept behind the album was inspired by the popular 'chopping
and screwing' technique in American hip hop which was developed in
Houston in the 1990s. The technique involves halving tempo,
skipping beats and affecting portions of the original music. The
approach was thought to have been developed by DJ Screw and
largely influenced by Purple Drank, a codeine-based cough syrup
which creates the effect of slowing down the brain, giving mellow
music its appeal.

For this exciting, innovative project Mica Levi and David Sylvester
handmade the instruments played by Micachu & The Shapes on this
recording.