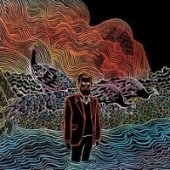 Iron And Wine
Kiss Each Other Clean
Label: 4ad
Genre: Rock / Pop
Availability
CD Digi / Cardboard €17.49

Dispatched within 5-10 working days
Album Of The Month in Uncut magazine.

New to 4AD, Iron And Wine deliver the perfect way to start any year.

It's been over three years since Iron & Wine released 'The Shepherd's Dog', a collection of songs that Sam (Beam) himself described as an attempt to replicate something in the vein of Tom Waits' 'Swordfishtrombones'.

While Waits fans might gasp at such a notion, making the kind of records that had brought much of their early successes would have been all too easy and living up to folks expectations never sounded all that interesting to Sam.

After all, the most fascinating journeys are the ones where you have no idea where you're headed, and that's what the experience of making the record turned out to be. In the end, they were rewarded with a warm reception from both fans and critics alike.

'Kiss Each Other Clean' is the next logical step and should have been done sooner had life not got in the way. As is well documented, Sam resides outside of Austin, Texas close to the middle of nowhere where he and his wife tend to a rather large homestead.

As one journalist who visited him once said, "he lives exactly as you hoped he would". Good for us, sometimes difficult for him.

When possible, recording sessions were taking place over the course of 2010 in Chicago with Brian Deck at the helm again as well as a number of familiar names who pop up to contribute musically.

Not one to rest on laurels, 'Kiss Each Other Clean' takes off where 'The Shepherd's Dog' left us with layer upon layer, rhythm upon rhythm and of course some acoustic guitar and whispering vocals for good measure. In a recent interview Sam said that the resulting ten tracks make for a "more focused pop record", albeit with "straight-up jazz, blues and African elements" experimentally thrown in.

If we are to believe Sam on his earlier Waits-ian comparison then it's safe to say that 'Kiss Each Other Clean' could be the second phase in his own trilogy a la 'Rain Dogs'. One thing is certain, he's yet to show any sign of letting up.