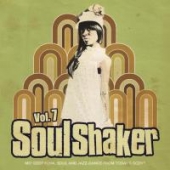 Various Artists
Soulshaker Vol. 7
Label: Record Kicks
Genre: Freestyle / Nu Jazz / Funk / Afro
Availability
CD €15.99

Dispatched within 5-10 working days
SoulShaker hits n.7 with another trip around the world searching for the coolest in (deep) funk, (northern) soul, (jazzy) afrobeat and more. Once again on the new SoulShaker all the bands being featured are from the contemporary scene, with lots of exclusive contributions and previously unreleased stuff on cd compilation.
On the funk side we have the original vocal version of "His Voice" by Elder Williams Smith produced by New Zeeland funk addict Kris Holmes and brought to popularity by Jazzman Gerald who spotted the instrumental version on his let's Boogaloo comp, here we find the original vocal version, followed by Ray Harris & The Fusion Experience "Scaramunga (B Dub rmx)", winner of the Scaramunga rmx competition and brand new singles by Dojo Cuts and Shaolin Temple Defenders.
A bit of afrobeat with a little teaser from the much awaited forthcoming The Liberators debut album expected to land in 2011 and our folks Kokolo Afrobeat Orchestra.
On the soul side we have Spanish Pepper Pots produced by Dap-kings guitarist Binky Griptite and a contemporary northern soul stormer by The Teenagers feat skinhead reggae legend Roy Ellis (Symarip/Pyramids). Also funky-jamaican courtesy of Los Granadians del Espacio Exterior and The Crabs Corporation, more nitty gritty with exclusive new singles from Baker Brothers, Hi Fly Orchestra and Ray Lugo LES Express and much more. With such a lineup of artists there's really not much to add, SoulShaker Vol.7 is where it's at....see ya on the dancefloor!