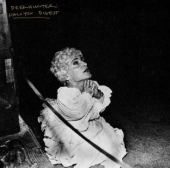 Deerhunter
Halcyon Digest
Label: 4ad
Genre: Rock / Pop
Availability
CD Digi / Cardboard €17.49

Dispatched within 5-10 working days
'Halcyon Digest' is the fourth studio album from
Atlanta's Deerhunter, released by 4AD.
The quartet of Bradford Cox, Lockett Pundt,
Joshua Fauver and Moses Archuleta have
established themselves as one of the most
innovative and important bands to emerge from
the US in recent years and 'Halcyon Digest' is sure
to bolster this newfound status of theirs.
Deerhunter are renowned for their prolificacy; in
the two years since signing to 4AD, the group has
released a double album ('Microcastle' and 'Weird
Era Cont.') and a five-track EP ('Rainwater
Cassette Exchange') as well as numerous unofficial
tracks that appear on a regular basis – albeit only
for a short duration – on the band's blog.
Furthermore, the band's own solo projects
(Bradford's Atlas Sound moniker and Lockett's
Lotus Plaza) have released albums at a similar
rate.
With every release, Deerhunter widen their sphere
of influence and critically they continue to impress.
Tracklisting:
Earthquake
Don't Cry
Revival
Sailing
Memory Boy
Desire Lines
Basement Scene
Helicopter
Fountain Stairs
Coronado
He Would Have Laughed