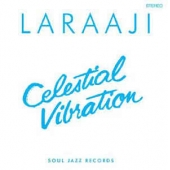 Laraaji
Celestial Vibration
Label: Soul Jazz
Genre: 80s Wave / Rock / Pop / Punk
Availability
LP + MP3 COUPON €22.99

In Stock
Universal Sound is releasing the first album by the Eno-produced ambient artist Laraaji. 'Celestial Vibrations' is a cosmic journey sounding unlike anything else when it was first released in 1978. Edward Larry Gordon (Laraaji)'s album was first issued in New York as a private-pressing record with only very minimal distribution. This album, known to very few people, has been unavailable now for over thirty years.
Laraaji's distinctive use of the harp-like open-stringed zither and kalimba (African thumb piano) creates a hypnotic trance like musical landscape. 'Celestial Vibrations' was created before the concept of the 'ambient' artist existed and after the release of this album Laraaji soon came to the attention of another musical pioneer, Brian Eno.
Laraaji came to fame in the 1980s as a worldwide ambient artist after working with Brian Eno for the release of his seminal 'Days of Radiance' release as part of Eno's Ambiance series for EG Records. Laraaji has since worked with a wide range of experimental musicians including Jon Hassell, Harold Budd, Michael Brook, Bill Nelson, Roger Eno, Nana Vasconcelos and Bill Laswell.
Today Gordon continues his unique musical and spiritual path - performing his music mainly for meditation at yoga centres and global retreats. He also runs his own 'therapeutic laughter workshop' where he coaches people in the mindful use of laughing for its health benefits.
Behind Gordon's success as an ambient artist it is sometimes possible to lose sight of his musical roots, but the African-origination of the zither and the kalimba belies an afro-centric source:
I was aware of Albert Ayler. His long cosmic sound recordings influenced me towards cosmic healing music. I experienced Sun Ra and his Arkestra in New York during the late 1970s. I also met Alice Coltrane and her harp and organ music stirred me deeply - as did her spiritual devotion. Some of my zither work may well be inspired by exposure to her harp and organ/chant recordings. I also found John Coltrane's recorded music a powerful ground of cosmic emotionality.
'Celestial Vibrations' by Edward Larry Gordon is re-issued on Universal Sound.