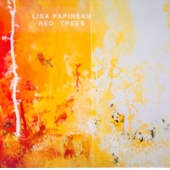 Papineau Lisa
Red Trees
Label: Yellow Bird
Genre: Rock / Pop
Availability
CD Digi / Cardboard €18.49

In Stock
Lisa Papineau was raised in respective wilds of Massachusetts and Vermont. After a bout of reading too much postmodern literature, Papineau packed up on a whim and moved to Los Angeles. There Papineau began a collaboration lovingly dubbed Pet with composer . Coming to the attention of Tori Amos and her manager/ collaborator Arthur Spivak, Pet was the first signing to their imprint label with Atlantic Records, Igloo.

The eponymous record was released to a great deal of critical success ("...Terse enigmatic songs that could be X-rays of adolescent mood swings." -New York Times.) However, it was the band's appearances on the soundtrack of The Crow II and, on the Rock For Choice benefit album Spirit of 73, that brought the group a wider following. After touring extensively, including a stint on the Warped Tour, the band returned to the studio to record two tracks for the Blue Note Records soundtrack of the film, The Last Time I Committed Suicide, which Bates also scored.

After the break up of Pet, Papineau began a project with bassist Juan Alderete de la Peña of The Mars Volta. As Big Sir, they have since released three albums, and are currently recording a fourth. Their music has featured performances and remixes by professional fancypants such as Money Mark Ramos-Nishita, Cedric Bixler Zavala, Dan The Automator, Sugar from Buffalo Daughter, Justin Meldal-Johnsen, and Adrián Terrazas.

In addition to her own material, Papineau has collaborated as both a writer and/or a vocalist on a variety of projects. Notably, she has appeared on Air's 10,000 Khertz, and Talkie Walkie, M83's Before the Dawn Heals Us, Jun Miyake's Stolen From Strangers, P.O.D's The Fundamental Elements of Southtown, Scapegoat Wax's Okeeblow, Scenario Rock's Endless Season, Farflung's Belief Module and NinePin Body, and the Bruce Haack tribute album Dimension Mix on which she performs the track "Walking Eagle." This year she has continued as a member of Crooked Cowboy and the Freshwater Indians, co-written new songs with, among others, the Anubian Lights, as well as Omar Rodríguez-López, and will appear as featured vocalist on the Tyler Bates score of the upcoming film The Watchmen.

Papineau's own Night Moves made its worldwide debut in July 2006, on LunaticWorks (Sony/BMG). Her second solo venture, (Red) Trees, will be released on Enja/ Yellowbird. The project features vocals from singer/songwriters Matthieu Boogaerts and Mark Eitzel of American Music Club, cover artwork from Italian painter Andrea Mastrovito, and a very loud organ from St. Géraud's church in Aurillac France, a town world-famous for their umbrellas.