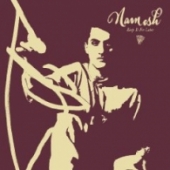 Namosh
Keep It For Later
Label: Crippled Dick Hot Wax
Genre: Electronica / Ambient / Experimental
Availability
CD Digi / Cardboard €4.99 Nice Price

In Stock
After a stretch of flamboyant shows, Namosh took a brief respite from the 
stage to focus on his new recordings. 
And the result is well worth the wait: his second long player, 'Keep It For 
Later', about to be unleashed on the (un)suspecting public, is a beautiful 
whirlwind of a record, although a touch softer than its precursor. Here, 
Namosh twirls dreamlike, synthie-generated sound sequences into rhythmic 
bass lines, percussion and vocals, further enriched by the cello, brass and 
jazz guitar provided by a few select peers. Mixed by Thomas Stern (Crime & 
The City Solution, Einstürzende Neubauten), the album also boasts a rare 
collaboration with composer Peter Thomas (Jerry Cotton, Raumpatrouillie 
Orion) and Namosh's first ever mainstream croon-fest: 'Pleurer et Rire' (Cry 
and Laugh). 

It was six years ago that the – then 21-year-old – Namosh E. Arslan first 
wowed the crowds with 'Picked Up Floozy'. A rousing club hit for the early 
millennium, the pumping electro track – carried by Namosh's smooth, yet 
curiously choppy vocals – still fills dancefloors around the world. In a 
poll by Q magazine, the Icelandic queen of cool, Björk, voted Namosh's 'Cold 
Cream' her favourite song. 

A tour de force and force of nature, Namosh's live sets are leagues apart 
from the latest mainstream offerings. "His musical spectrum might be broad, 
but anyone who's ever had the chance to see Namosh live will know that 
there's a lot more to this man than the music." (FAZ) 
Other media labels for the one-man performance phenomenon include: "German 
Wunderkind", "crazy performance by a German/Kurdish star in the making" or 
"Berliner by choice, Kurdish by nature".