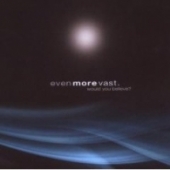 Even More Vast
Would You Believe?
Label: Pandaimonium
Genre: Dark / Post Punk / Gothic / Neo-Folk
Availability
CD €15.99

Dispatched within 5-10 working days
HIGHLY recommended first class Wave/ Gothic/Ethereal/Cold Wave – Pop, comparable with earlier Faith and the Muse (album 'Elyria' - but slightly less pathethic) and the early 4AD-sound (Cocteau Twins…) – without ever sounding 'dated', 'retro' or 'trendy'! Would you believe' is simply 'handmade music' – each and every singular track has it's very own character, free from clichés. EVEN MORE VAST know their influences, without ever trying to copy them. Even their – highly praised by many German mags – cover-version of 'Love will tear us apart' (Joy Division) is no imitative blasphemy, but a highly inspired homage, as only The Swans succeeded to deliver so far! A truly untrendy album, that convinces from first listening thanks to marvellous instrumentationm, impressive songwriting and above all Antonietta's intense vocals.
In short: With 'Would you believe?' Antonietta Scilipoti (vocals and keyboards), Luca Martello (guitars & electronics) and Vincenzo Di Leo (bass) delivered a true pearl in this often boring music scene and this album deserves attention!
Individual maturity and artistic growth led Even Vast to an evident separation from their initial sound, rather heavy and slow, that marked 'Hear Me out' (1999) and 'Outsleeping' (2003), two albums that, however, made the band appreciated by criticism and that aroused interest of many people. Their third album 'Teach Me how to bleed' (2007) by means of ten tracks, was finally capable to pass on the most instinctive and passionate attraction of the band towards the decadent dark-wave sound. In late 2007, the band decided to modify the moniker in Even More Vast (stabilizing definitively as a trio) and go record three brand new songs which feature some interesting novelties. The 3 new songs are featured in a promo cd that reaches various labels worldwide. Even More Vast receive some proposals for a record deal and decide to accept the offer of American label Renaissance Records for the territory of North- & South America.
The band re-arranged and re-recorded completely the songs featured in 'Teach me...' for this new album, that features these songs plus the three promo tracks and a previously unreleased track entitled 'Would you believe?'!
Lista brani: