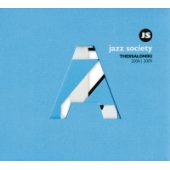 Various Artists
Jazz Society, Thessaloniki 2008 / 2009
Label: Defkaz
Genre: Jazz / Avant Garde
Availability
CD €5.99 Nice Price

In Stock
The effort for a presentation of the contemporary jazz and creative music scene on behalf of a non-profit organization is continuing.
There is a selection of recordings of the ''jazz celebration of the years 2007-2008'' with emphasis on original compositions and collaborations of Greek and foreign musicians from a broad spectrum of jazz music. The originality applies to the aesthetics of the collection too, that is our 3rd presentation.
Our Association is located in the city of thessaloniki and the ''jazz celebration'' is talking place in our city but the participating musicians come from the whole Greece and abroad.