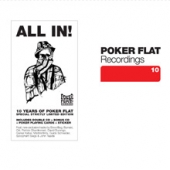 Various Artists
All In! Ten Years Of Poker Flat
Label: Poker Flat
Genre: Techno / Tech-House / House / Trance
Availability
CD x3 €29.99

Dispatched within 5-10 working days
Other Formats
This is the limited edition Box-Set of "All In! Ten Years Of Poker Flat"! As a special extra feature, this limited box-set compilation will come packaged with an exclusive, uniquely designed 100% plastic, casino quality poker deck! The cards feature inspired, 'deadly chic' illustrations by artists Nils Zimmermann & Christoph Babbel and are included along with a Poker Flat sticker in a limited run of 2000 boxed sets, hand numbered at the Poker Flat headquarters.

This package also includes a third Bonus CD!
As a special celebration of the quality and sheer spectrum of music released on the label since its inception, Steve Bug has pulled out some of his hidden classics from the shelves onto CD 3. Bug's own 'A Night Like This' has that classic minimal funk that he made famous, while a chance meeting between Guido Schneider and Jens Bond in 'Oh My Buffer' rocks that bass heavy dancefloor grind that's still doing it today. Other delights are easily found, such as Joakim's gritty, electro-stepping 'Slap On It' remix of the Detroit Grand Pubah's 'Big Onion', or Berkson & What's serious lesson in controlled mayhem, 'The Dig'. You can rest assured every track proudly bears the Poker Flat shield, continuing to sound as fresh as ever!

This very special compilation proves more than ever the sheer quality and craftsmanship of the artists involved, producing consistently cutting edge exciting electronic music, and reminds us how much Poker Flat has given to its fans over the years. This time, all bets are closed.... All In!

CD1
1. Steve Bug: My Chihuahua Bites
2. Märtini Brös: A Beautiful Place
3. David Durango: Dancing To The Dark
4. Patrick Chardronnet: Float
5. Burnski: Species
6. Clé: Moon 15
7. Gamal Kabar: The Highlander
8. Sycophant Slags: Telling
9. Guido Schneider & Florian Schirmacher: Nadel Und Zwirn
10. John Tejada & Arian Leviste: M Track 5

CD2
1. David Durango: Move With Me
2. Ryo Murakami: Down The Sky
3. DJ T: After Dark
4. Vincenzo : The Phantom Image
5. D.H.S.: House Of God (Phonique Remix)
6. Raudive: Christmas Tree
7. Argy & Sydenham: In The Mist
8. Clé: Nomads (M. Tanzmann Remix)
9. Simon Flower: Phosphenes
10. Donnacha Costello: Hello, I Must Be Going

CD3 - Exclusive Bonus CD Limited Edition BOX
1. Håkan Lidbo: Kiki de Montparnasse
2. Jackmate: Recall
3. ADJD: Believe
4. Steve Bug: A Night Like This
5. Detroit Grand Pubahs: Big Onion (Joakim Slap On It Remix)
6. Dan Berkson & James What: The Dig
7. Martin Buttrich: Cloudy Bay
8. Martin Landsky: I Can`t Get Up
9. Guido Schneider meets Jens Bond: Oh My Buffer
10. Trentemøller: Always Something Better (vocal version feat. Richard Davis)