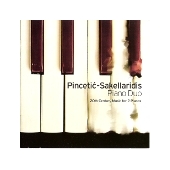 Pincetic / Sakelaridis
Piano Duo
Label: Irida
Genre: Jazz / Avant Garde
This album brings together works which span the whole of the 20th century, covering a wide variety of musical styles. The journey begins with Argentinian Tangos by A. Piazzolla and the Greek folklore elements present in the music of N. Skalkottas and reaches the imaginative minimalism of J. Adams and the jazzy influences of G.Gershwin without leaving out references to B. Bartok and W. Lutoslawsky.

The performers, Croatian pianist Beata Pincetić and Greek pianist Christos Sakellaridis met in Budapest in 1992 while studying piano at the 'Ferenc Liszt' Academy of music. Although married, they followed separate career paths until deciding to form a piano duo in 2003. Since then they have been building their repertoire for four hands and two pianos, that by now consists of classical, romantic, 20th century and contemporary music.

The duo doesn't shy away from any musical period or style and cooperation with contemporary composers gives them great pleasure. They share a common love for 20th century music for two pianos and for great overlooked musical pieces or transcriptions that are rarely played or have been 'forgotten'. This CD is the result of that particular interest.

Recorded at the Athens Concert Hall on May the 8th and September the 27th, 2007.

The recording was made thanks to a grant from the "Alexandros Onassis" Foundation.