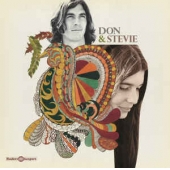 Don & Stevie
Don & Stevie
Label: Finders Keepers
Genre: 60s / 70s Rock / Pop / Progressive / Kraut
Availability
CD €16.99

Dispatched within 5-10 working days
Other Formats
Lost love songs and self-pressed pop acetates by this previously unheard Californian folk duo from beneath the shadows of the Hollywood Hills.

These recordings of unreleased and unknown American acidic folk and acoustic pop were made in the late 60s by husband and wife duo Don & Stevie Gere. For over 40 years they've sat untouched and unplayed in a box of unmarked studio tapes at their family home in Los Angeles. As original pop songs and guitar based arrangements from the man who made the stoner psych soundtrack for cult movie Werewolves On Wheels, these rescued one-off pressings were sung in harmony with his teenage sweetheart and lifelong partner, Stevie Howard, recorded at LA based walk-in studio sessions.

Sprouting a missing branch in the family tree of L.A. based artists like Curt Boetcher and Doug Rhodes (The Millennium), Waddy Wachtel (Buckingham Nicks) David Gates (Bread) and members of The Steve Miller Band, this LP includes original versions of tracks written for or featuring all of the above as well as destroyed and unreleased film music. What might have been considered "lost" treasure until now has remained previously unshared outside of the duo's own private relationship, and presents fans of obscure folk and privately produced pop with a unique LP that defies collectability and paints a fuller picture of a lesser-spotted enigma in uninhabited unison with his closest musical confidant.