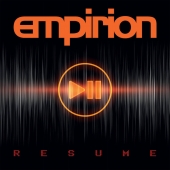 Empirion
Resume
Label: Dependent
Genre: Electro / Electro-Rock
Availability
CD €16.49

Dispatched within 5-10 working days
There are not a lot of electronic dance albums eagerly expected by their fanbase 23 years (!) after the release of its originators' only album, but "RESUME" is one of them. This may well be due to the fact that with their 1996 debut "Advanced Technology", Empirion managed to gain respect in the electronic dance and EBM/industrial scenes alike - a rare achievement, to be sure.

Another reason might be the timeless masterpiece that is the remix of The Prodigy's hit single 'Firestarter', which is still capable of filling dancefloors even two decades after its release … or it is because Austin Morsley got some impressive mainland Europe credibility with his project Kloq in the meantime?

Whatever might be the case: The high regard in which the crowd still holds the Essex duo - consisting of Austin "Oz" Morsley and Jamie Smart - is remarkable. Correspondingly, "RESUME" harks back to Empirion's legacy as much as it addresses the very topical struggle between man and technology ('I Am Electronic') and our universal angst ('Hate the Hate'). Therefore, the band appears to be even more relevant than it was back in the 90s.

"RESUME" turns out to be a smasher of an album - a stylish hybrid between dance and industrial, retro and modern at the same time, influenced by bands such as Future Sound Of London, Nitzer Ebb and - of course - The Prodigy while still maintaining Empirion's individuality. after almost 25 years since their foundation, the two-piece keep pushing the boundaries of electronic music; they 'Tear Down These Walls' in the true sense of the word and the Spirit of 1996… and with the sound 2019!