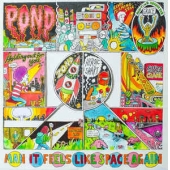 Pond
Man It Feels Like Space Again
Label: Caroline
Genre: Rock / Pop
Hailing from Perth, Australia, POND formed in 2008 as an all-inclusive, ego-free collective spawned from numerous other interlocked bands and projects: Mink Mussel Creek, Allbrook/Avery, and Tame Impala.

"Pond…are very good at nailing tracks with best-of-both worlds approach, fusing those indulgent chunks of far-outness with fundamentally solid rock'n'roll tunes." – Pitchfork.

Die cut sleeve, picture inner sleeve.