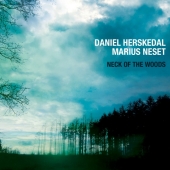 Herskedal Daniel / Neset Marius
Neck Of The Woods
Label: Edition Records
Genre: Jazz / Avant Garde
On Neck of the Woods, Neset and Herskedal demonstrate how their original compositions explore influences from classical and folk music, but always with an underlying jazz sensibility – from the soaring and uplifting classical grandeur of 'Neck of the Woods' to the simple and sublimely beautiful arrangement of Abdullah Ibrahim's 'The Wedding', Neck of the Woods is an album of extraordinary creativity and energising charm.
Press
'Tenor sax and tuba make for a surprisingly haunting double act'. OBSERVER
'The Norwegian partnership produce sax/tuba duets that swoop and purr'. GUARDIAN
'…this is an unusual but consistently absorbing and intriguing album from two highly accomplished instrumentalist/composers'. LONDONJAZZ
Credits
All music by Daniel Herskedal, except Ara's Dance, Introduction and Swan Island by Marius Neset and The Wedding by Abdullah Ibrahim.
Produced by Daniel Herskedal and Marius Neset.
Recorded by August Wanngren at Fredriksberg Kirke (Copenhagen, DK) in December 2010, Kulturskolan i Lund (Lund, SE) in February 2011 & We Know Music Studios (Copenhagen, DK) in June 2011 and May 2012.
Mixed and Mastered by August Wanngren at We Know Music Studios.
Photos and design by Darren Rumney.