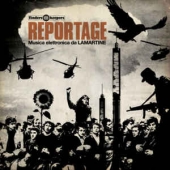 Lamartine
Reportage
Label: Finders Keepers
Genre: 60s / 70s Rock / Pop / Progressive / Kraut
Availability
LP €22.99

Dispatched within 5-10 working days
A genuine lost and unreleased full-length LP from one of the most mysterious figures of early Italian electronic sound and library music. A missing puzzle piece in the small discography of experimental tape and synthesiser music by the composer known only as Lamartine recorded (but never pressed) in 1974 by the archive that bought you the work of Daniela Casa and the wildest electronic experiments of Alessandroni, Giuliano Sorgini and Fabio Frizzi. Having sat in the can for over 40 years the similarities to the likes of Cluster, Tom Dissevelt and the Radiophonic workshop have yet to be recognised and celebrated.

The name Lamartine was a true mystery of library history.

In keeping with the habitual culture of library music the mononymous name Lamartine was very likely to be one of many creative nom de plumes designed to disguise the true identities of the artists – even the likes of Morricone and Bruno Nicolai had there own shrouded monikers (Leo Nichols and Leo Flag respectively). Having faded from the memories of the ex-employees of the defunct production music departments at CAM and RCA, the truth behind this uncelebrated electronic pioneer remained a mystery for over thirty years. As enthusiasts began to unravel the pseudonyms of other composers such as Tomassi and Alessandroni via cue sheets, invoices and interviews, suspicions around Lamartine being of non-Italian origin rose to the surface with rumours that he or she was most probably of German, Dutch or English decent due to his distinct similarities to artists like Kid Baltan from Holland, various electronic artists from the outskirts of the krautrock scene or British tape music composers such as Basil Kirchin or David Cain. All of whom had firm relationships with the international library music scene. Although most of the records made for the RCA 1000 series were also repackaged for syndication in France via the April Orchestra series, it was unusual that Cronache Dal Mondo didn't benefit the same service, bringing into question the fact that Lamartine may have secretly been a big name artist legally contracted to exclusive territories or simply the author of music that was too challenging for wider consumption. Even searching for other unconfirmed aliases within the huge independent Italian library network, based of musical similarities or pure speculation, rendered little answers convincing unsatisfied fans that Lamartine had carefully covered his tracks or let the birds eat the breadcrumbs.