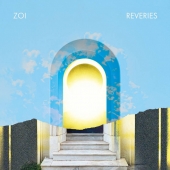 Zoi
Reveries
Label: Same Difference Music
Genre: Rock / Pop
Availability
CD Digi / Cardboard €9.99

In Stock
Among other things, Zoi Lianou is a classically trained pianist and a singer.
This lost gem of an album was made in Zoi's room in Athens. She only used a synthesizer, a classical guitar, a cheap microphone and a fair bit of programming.
She traces her inspiration back to her childhood musical inputs, which were mainly musical theatre songs, Disney, The Beatles, David Bowie, Lilipoupoli and her parents' record collection. After a very long period of not listening to music, Zoi joined a choir. That was a pivotal moment in her life which unlocked her love for musical composition, a skill she didn't know she had.
Her songs contain long and intricate musical motifs that evolve continuously, often polyphonic, some acapella, usually rich in vocals and orchestral instruments, in a similar vein to Van Dyke Parks, Free Design, Joanna Newsom and barbershop quartets… In reality, "Reveries" is an avant-pop, bedroom-musician feat that defies genres and categorization.