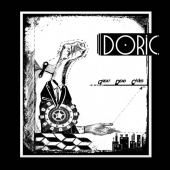 Doric
Great Dead Cities
Label: Young And Cold Records
Genre: Electro / Electro-Rock
Availability
Other Formats
Doric is the solo, side-project of Stathis Leontiadis, mostly known as the one half of the Human Puppets, as well as the Exetix,Plexiglas and Data Fragments.
Being involved in various avant garde/new wave music projects since 1996, intrigued by the all analogue mentality of the late 70's-early 80's music field, he passionately committed to vintage synths and machines, creating a very distinctive and specific style and considered by many as "specialist".
His live performances are all analogue by choice and are interestingly captivating as the sound is being built on stage, just like the old days.