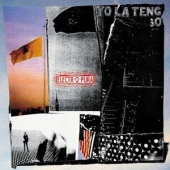 Yo La Tengo
Electr-o-pura - 25th Anniversary Edition
Label: Matador
Genre: Rock / Pop
Availability
LP x2 €26.99

Dispatched within 5-10 working days
'Electr-O-Pura', Yo La Tengo's seventh studio album, found the band in livelier and more outwardly enthusiastic form; while they had hardly abandoned their more subdued and contemplative side, as evidenced by the lovely 'The Hour Grows Late' and 'Pablo And Andrea', they seemed eager to once again explore the grittier textures they'd unearthed on 'President Yo La Tengo' and 'May I Sing With Me' with tunes like the gleefully manic 'False Ending' and the bizarre horn-blasted 'Attack On Love'.

Yo La Tengo also served up one of the most perfectly realized pop tunes in their repertoire with 'Tom Courtenay' (which not only name checks the Beatles, but boasts a tune the Fab Four would have been happy to come up with themselves), and revisited the concept of the noisy groove jam (which they pioneered on 'The Evil That Men Do (Pablo's Version)') with the acetone-powered 'False Alarm' and the joyous 'Blue Line Swinger'.

Throughout, Ira Kaplan's simple but forceful guitar lines, Georgia Hubley's steady, subtly inventive drumming, and James McNew's solid, supportive bass add up to a group that prizes intelligence and imagination over flash, and makes it work over and over. Few bands have consistently better ideas than Yo La Tengo, and they make 14 of them work like a charm on 'Electr-O-Pura'.