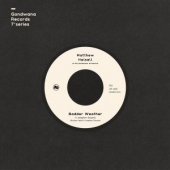 Halsall Matthew & The Gondwana Orchestra
Badder Weather / As I Walk
Label: Gondwana
Genre: Jazz / Avant Garde
Gondwana Records are delighted to announce '7" Series', our first ever 7" vinyl collection series. Featuring bespoke artwork from Gondwana Records designer Daniel Halsall, cut at Calyx in Berlin, and manufactured at Optimal, each 7" is limited to strictly 300 copies and housed in a reverse board printed sleeve with classic 'dinked' centre holes.

Manchester based composer, arranger, producer, DJ and band-leader Matthew Halsall has carved out a niche for himself as one of the UK's brightest talents. His languid, soulful, beautiful music has won international acclaim and for his first ever 7" he revisits his 2015 masterpiece, Into Forever, selecting two classic cuts, featuring the great vocalist Josephine Oniyama to create an instant, timeless, classic.

Side A Badder Weather is deep and soulful built around a groove that never quits.

Side B As I Walk is a lush, soulful affair, featuring swelling strings and deep vocals.