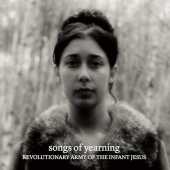 Revolutionary Army Of The Infant Jesus
Songs Of Yearning
Label: Occultation
Genre: Dark / Post Punk / Gothic / Neo-Folk
For thirty-five years now the Revolutionary Army of the Infant Jesus's cult following has been quietly growing across Europe and America. ! Conceived in Liverpool in 1985, the Revolutionary Army of the Infant Jesus (RAIJ) is a unique experimental ensemble whose work goes beyond music; the new releases involve an actress and film-maker from Russia amongst other artists from the UK and the rest of Europe.

Their music is unusual, ambitious and mesmerising. Influenced by the culture of Mainland - and especially Eastern - Europe. Their emotionally-charged soundscapes combine ethereal vocals, ambient compositions, chants, acoustic instrumentation and field recordings, the effect of which is often haunting, beautiful and emotionally intense. Live, their identity is often shrouded behind screens, veils and enigmatic imagery.

Songs of Yearning is the band's fourth album and perhaps their most coherent single body of work to date. An enticing combination of eastern religious sounds and iconography, acoustic and electric instrumentation, and lilting, meditative vocals, Songs of Yearning features pieces in no fewer than six different languages: Greek, French, English, Latin, a Finnish dialect of Swedish, and Russian. ! Founder member Leslie Hampson said: "Songs of Yearning is an album of longing, exploration, fascination and passion; together, the pieces describe the search for that which is most treasured and lost… there is an emotional thread running through the album, pieced together from the echoes of half-forgotten memories, in what is sometimes a despairing search for compassion, peace and redemption." ! Fellow founder Paul Boyce added: "There is no single narrative. We bring different life experiences and perspectives and share them. The music serves as an expression of how we see and view the world."