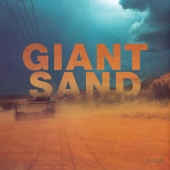 Giant Sand
Ramp
Label: Fire
Genre: Rock / Pop
Availability
CD x2 Digi / Cardboard €12.99

In Stock
A Deluxe remastered edition of Giant Sand's 1991 album 'Ramp' with a second disc featuring the Mad Dog sessions from earlier that same year.

"Convertino's brush-work and Burns' upright bass provide the perfect foundation for Gelb's parched voice and chaotic guitar, and guests include Rainer, Victoria Williams and country veteran Pappy Allen. It's one of Giant Sand's strongest and most complete albums." The Quietus //

Featuring piano lounge music for an off-world colony interrupted by an onslaught of guitar when needed, it's light and dark and the better for it, a musical journey on a road less travelled. With Gelb's lyrical invention to the fore: "His thoughts unfold in long, rolling sentences that don't always follow conventional rules of grammar or syntax." The Quietus //

The Tucson sound at it very best.