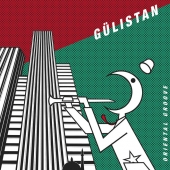 Gulistan
Oriental Groove
Label: Hot Mule
Genre: Jazz / Avant Garde
In the summer of 1986, inspired by gypsies from Turkey and the Balkan region, a Kurdish immigrant and six Austrians locked themselves in a small rehearsal room in Vienna's 5th district. What came out of these sessions sounded rather unusual for the local music scene.

Using songs from the Eastern Mediterranean and Middle East as a vehicle for improvisations based on odd scales and rhythms, and looking for ways to adapt them to their instruments and European feel, the band gave birth to its own sound signature. Delivering some of the tightest oriental jazz fusion recorded that decade.

Submitted by soundman Michael Fitsch as his end of the year project at audio engineering school, the album was ultimately released on his teacher Hans Hartel's Ha Ha Soundwave imprint. Mostly sold in venues during legendary performances, Oriental Groove fatally faded from memory since the group disbanded a few months after its release.

To conclude a year of investigation and continuous efforts to put the band members back in touch 30 years later, Hot Mule Records is proud to bring this groundbreaking record back to life with an official reissue, carefully remastered from the original source.

Limited Deluxe Edition of 500 copies in tip-on sleeve, including extensive liner notes by Donna Leake, with exclusive photos handpicked in the band's archives.