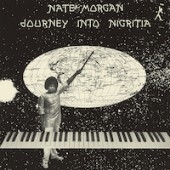 Morgan Nate
Journey Into Nigritia
Label: Outernational Sounds
Genre: Jazz / Avant Garde
How many sixteen-year-olds would have the confidence to walk up to a revered bandleader, and inform him that one day they'd be playing together? This is how pianist Nate Morgan introduced himself to the founder of the Pan Afrikan Peoples Arkestra. The teenager had heard Tapscott's Flying Dutchman LP The Giant Is Awakened on the radio, and Arthur Blythe's wailing sax had gone 'straight to the heart. It was a spiritual experience.' He was already studying with Joe Sample and Hampton Hawes; now Morgan showed up to all the Arkestra shows he could.
'I could only take about two or three more concerts before I had to run up on stage. When I first introduced myself to Horace, he tells everybody that I said, "Yeah, I'm Nate Morgan. I'm going to play with you all." Not that I want to, but that I'm going to.'
Over the next decade and beyond, Morgan would become a central figure in Tapscott's UGMAA (Union Of God's Musicians and Artists Ascension'), bringing new players like Jesse Sharps into the fold. During the early 1970s he also put in a stint with Rufus and Chaka Khan, and played on Willie Hutch's Foxy Brown soundtrack. He remained active throughout the 1980s and 1990s, keeping the UGMAA flame alive in late night jams and private sessions, and working tirelessly around LA, including collaborations with Bone Thugs N' Harmony. He was a participant in the early 2000s LA jazz collective Build An Ark. A true musician's musician, Morgan died in 2013.
Originally released in 1983, this was the first of Morgan's two LPs for Nimbus. Also featuring firebreathing reedsman Dadisi Komolafe, it's a committed, spiritualised work that showcases Morgan's heavy composing as well as his McCoy Tyner- influenced and technically flawless playing, with dedications to Coltrane (He Left Us A Song) and Cecil Taylor (Study In C.T.).
Surging, modal jazz from the LA undergound, Journey Into Nigritia is a crucial recording by an unsung jazz legend.