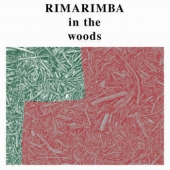 Rimarimba
In The Woods
Label: Freedom To Spend
Genre: 80s Wave / Rock / Pop / Punk
Availability
LP €19.99

Dispatched within 5-10 working days
Somewhere out there around the turn of the 1980s, to the left of the post-punk crew, to the right of the minimalists, and surfacing with a friendlier face than the dour industrialists of the time – there existed, seemingly unbidden, an entire, networked, tape-trading community; a community that crossed continents and oceans, that relied on the postal service to do its bidding; a community full of humble visionaries and lost, misunderstood, or just plain ignored home steeped genius.

Exploring that thicket of weirdness in the UK wild, you'd likely stumble across labels like Cordelia, Hamster, and Unlikely; compilations like the should-be-legendary Obscure Independent Classics series, or the Real Time cassettes; and inexplicable one-offs like The Deep Freeze Mice, Jody & The Creams, R. Stevie Moore, Leven Signs, Jung Analysts, and Rimarimba.

Rimarimba was the project of Robert Cox, based in Felixstowe, on the seaside in Suffolk, UK. Rimarimba was not Cox's first entry into the world of recorded music, but was the first time he explored, most perceptively, the parameters of a particular musical mode: one where minimalism is removed from its "highart" mantle, Cox inveigling its practices in amongst the do-it-yourself creativity of a burgeoning and beguiling underground, letting the music breathe – and most importantly, letting it play, gifting it with imagination.

One-time edition of 750 copies.