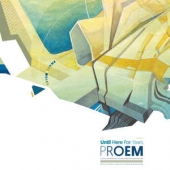 Proem
Until Here For Years
Label: N5md
Genre: Electronica / Ambient / Experimental
Until Here For Years is the 11th studio album from Proem, and the first since 2010's Enough Conflict that is in the more experimental electronica style Richard Bailey is most known for.
Until Here for Years is being released just a month before the 20th anniversary of his debut album Burn Plate No. 1 and Until Here For Years has all the hallmark Proem components, that are still as prominent as they were 20 years ago.

Malfunctioning drums, the fat rounded basses (this time out doubled on fretless bass), and those heartstring pads. Oh, the pads! This is where Proem has always differed from his contemporaries. Scholarly enough for the chin scratchers and sufficiently cerebral for those that could care less how the sounds might have been conceived. It's a fine line Bailey has always walked with ease.

Every part of Until Here For Years, including the artwork, utilizes an esoterically obscured source. JSON documents, synthesizer schematics, hex values, and even SVG files are used as a basis for his creative input. In other's hands, it surely would sound like an academic exercise, but Bailey makes emotively arresting music from such abstruse sources. Until Here for Years is undoubtedly a return to form and ultimate treat (and thank you) to Proem fans the world over.