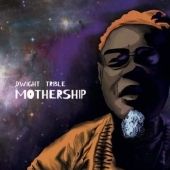 Trible Dwight
Mothership
Label: Gearbox
Genre: Jazz / Avant Garde
Availability
LP x2 €32.99

Out of Stock
Other Formats
"It was such an honor to play on Dwight Trible's album.

His singing has inspired me since I was 15 years old. He has a way of bringing such a
unique life and feel to every song that he sings.

His voice has power, soul, and beauty, qualities that all us horn players strive for.

Thank you Dwight for having me on this masterful piece of art"

Kamasi Washington (early 2019)

The godfather of the LA sound, and possibly the World's greatest living Jazz Vocalist, returns with his masterpiece.

Timeless, yet made for our times - this is a double album of spiritual jazz, soul, gospel, and psychedelic rock.

Recorded at LA's Sunset Sound, and backed by a band of legendary musicians (including Kamasi Washington), this is a work of true beauty. A tour de force that reveals Dwight's kinship with Spiritualism.

Musicians:

Dwight Trible vocals
Kamasi Washington tenor sax
Mark de Clive-Lowe piano
John B. Williams double bass
Ramses Rodriguez drums
Maia harp
Miguel Atwood Ferguson viola
Derf Reklaw percussion
Carlos Nino hand percussion

Limited edition, colored vinyl.