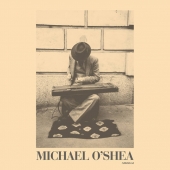 O'shea Michael
Michael O'shea
Label: Allchival
Genre: 80s Wave / Rock / Pop / Punk
A combination of dulcimer, zelochord and sitar, O Shea would play it with a pair of chopsticks, striking the strings softly using Irish folk rhythms mixed with the rich, nostalgic sounds of of the many Asian artists he'd encountered on his travels.

It was a pan cultural sound standing at an unusual crossroads of folk, traditional, rock, progressive, jazz, electronic and post-punk worlds without hesitation.

Perfecting the instrument on the streets, there were further spells spent busking in the underground stations and cafes of London's West End and Covent Garden during the heady days of the 1970s when they were full of eccentric street entertainers, jazz improvisers and musical pioneers.

His work with Rick Wakeman never saw the light of day but O'Shea's contact with the world of post-punk London ensured his name would live on.

Introduced to Wire's Bruce Gilbert and Graham Lewis via cartoonist Tom Johnston, O'Shea eventually acquiesced to an open invite to record at their studio. Turning up unannounced in the first half of 1981 the LP was recorded in a day in the legendary Blackwing Studios and released on Dome the year after.