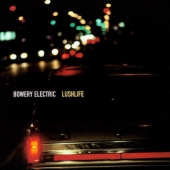 Bowery Electric
Lushlife
Label: Beggars Banquet
Genre: Freestyle / Nu Jazz / Funk / Afro
Bowery Electric formed in late 1993 and were comprised of Lawrence Chandler and Martha Schwendener.

'Lushlife' was their third and final album and it was released by Beggars Banquet in early 2000. It was nearly two years in the making and took even greater strides forward from their previous releases. It teems with atomized sounds, each one opening a portal in the mix, importing a haze of space and history, evoking the distant buzz of the city beyond the studio.

Throughout, gilded strings build, sway and exhale, plugging the music into the sumptuous melancholy of Philly soul, the emotive Mancini-inspired arrangements of Gaye and Mayfield and the edgy soundtrack scores of David Shire ('All The President's Men', 'The Taking Of Pelham 123'). Yet, with all the experiment and variation, 'Lushlife' is actually quite a deliberate and enticing affair for the ear and mind.