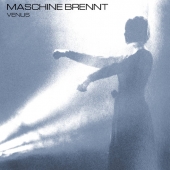 Maschine Brennt
Venus
Label: Preset
Genre: Electro / Electro-Rock
Maschine Brennt played live in January 1992 in Uppsala, Sweden with Joacim Thenander as the only person on stage. M.B. made one more concert at the end of the year with three people on stage. Yet another gig during the summer 1993, this time with six "members". Maschine Brennt developed into a "cyber-robot future" with a cast of different characters, such as:
* Maschine - the commander
* Kretnjik - confiscated man-machine, due to malfunction
* Atoma 1 & 2 - made for silent dancing
* Atoma 1000 - the ultimate Atoma, still under construction

The recordings of the latter concerts is now featured on this release, as well as re-recorded versions of four of the seven tracks.