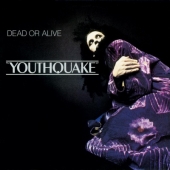 Dead Or Alive
Youthquake
Label: Music On Vinyl
Genre: 80s Wave / Rock / Pop / Punk
Availability
LP 180gr Audiophile €20.99

Out of Stock
Youthquake is the commercial breakthrough album by the British pop group Dead or Alive. The album is most famous due to the lead single "You Spin Me Round (Like a Record)". The band's over the top image gave the group their unique identity. Another huge single hit is the disco influenced "Lover Come Back to Me", in which the singer is pining over a love interest. Glam rock and goth music are mixed together both in their music as their image. The Youthquake is an interesting and energetic example of how you're going to start the party.

Dead or Alive found success in the mid-1980s and sold over 50 million records worldwide. Founder and vocalist Pete Burns passed away in 2016 and since the band discontinued.

180 gram audiophile vinyl
Including insert
Feat. the hit singles "You Spin Me Round (Like A Record)" and "Lover Come Back To Me"
Limited edition of 1500 Individually numbered copies on purple coloured vinyl.