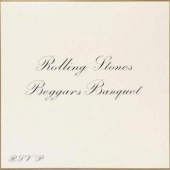 Rolling Stones
Beggars Banquet - 50th Anniversary Edition
Label: Abkco
Genre: 60s / 70s Rock / Pop / Progressive / Kraut
Availability
LPx2 +7\" +MP3 COUPON €51.99

Out of Stock
· 50th Anniversary Edition of the landmark album in The Rolling Stones' career.

· Includes two of the group's best, and most provocative songs – 'Street Fighting Man' and 'Sympathy For The Devil'.

· The introduction of legendary producer Jimmy Miller refocused the band with enthralling results, returning to their blues roots albeit in a radical new way.

· Rootsy and sophisticated in equal measure, released in December 1968, Beggars Banquet (trailered by a candidate for the title of greatest non-album single of all time, Jumping Jack Flash), absolutely epitomised 'Rock' and would inform and influence so much of what followed to dominate the musical landscape over the ensuing decades.

· It remains simply one of the best albums in the genre almost 50 years on.

· The album received highly favourable critical notices, with many referring to it as a return to form after the Stones' diversion into psychedelia with their previous LP Their Satanic Majesties Request.

· Author Stephen Davis described it as "…a sharp reflection of the convulsive psychic currents coursing through the Western world. Nothing else captured the youthful spirit of Europe in 1968 like Beggar's Banquet."

· ABKCO Records will release a Special Edition Vinyl Package to celebrate the milestone in music history which includes:

- Overwrap with original 'RSVP' front and back cover
- Classic 'bathroom graffiti' cover gatefold jacket with the remastered original album cut to 180-gram black vinyl.
- Plus Sympathy For The Devil 12" Original Mono Mix with Etched B-Side.
- Bonus Flexi Disc: "Hello! This is Mick Jagger" LONDON to TOKYO April 17, 1968 Interview
- Download code of album + flexi audio included with vinyl
- Remastered by Bob Ludwig at Gateway Mastering
- Lacquers cut at Abbey Road Studios, London.