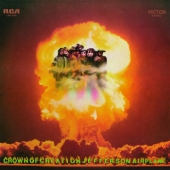 Jefferson Airplane
Crown Of Creation
Label: Music On Vinyl
Genre: 60s / 70s Rock / Pop / Progressive / Kraut
Availability
LP 180gr Audiophile €20.99

In Stock
The psychedelic rock from the San Francisco band Jefferson Airplane developed to a new level on their fourth album Crown of Creation. Elements of electric rock and science fiction are placed in an more accessible sound compared to its predecessor. They're expressing their views regarding the hippies, politicians and spreading anti-war messages. Musically the guitar playing and organs are part of the support to Grace Slick's impressive vocals. They have evolved to a steady band in the psychedelic scene, and Crown of Creation is still the unknown gem that needs to shine. Even guest musicians like David Crosby and Bill Goodwin are bringing their greatness to this album. Brilliant lyrics and incredible atmospheres shows that Crown of Creation is one of the best records they have ever produced.

Jefferson Airplane rose to fame during the second half of the 1960s with performances at the famous rock festivals Monterey (1967), Woodstock (1969) and Altamont (1969). After their 1967 break-out album Surrealistic Pillow they grew to worldwide fame and in 1996 they were inducted into the Rock and Roll Hall of Fame.

180 gram audiophile vinyl
Including insert
50th anniversary
Feat. the hit singles "Greasy Heart" and "Crown of Creation"