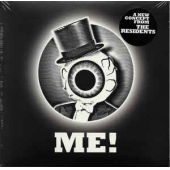 Residents
I Am A Resident!
Label: Chery Red
Genre: Industrial / Post Industrial / Experimental
Availability
CD x2 Digi / Cardboard €18.99

Out of Stock
THE ALL-NEW MASH-UP ALBUM CONCEPT FROM SAN FRANCISCO'S WHACKED-OUT EYEBALL COLLECTIVE.

EXCLUSIVE RETAIL EDITION BASED ON THE SUCCESSFUL AND UNIQUE PLEDGE CAMPAIGN.

BRAND NEW VERSIONS CREATED BY FANS AND MUTATED AND COLLAGED BY THE RESIDENTS.

EXCLUSIVE DISC TWO MATERIAL – STAND ALONE COVER VERSION HIGHLIGHTS!

The Residents, long known as the world's most mysterious and reclusive band, announce a new chapter in their lengthy and legendary career – not just a new album but a completely new concept: I AM A RESIDENT!

Having invited fans to record cover versions of their songs via PledgeMusic, the group have reworked that material into the ultimate Residents mashup, editing, looping and over-dubbing to create something entirely new.

Hear The Residents reinterpret their fans' interpretations, creating layer upon layer of music that is both hauntingly familiar and achingly wrong at the same time.

I AM A RESIDENT! is both original and completely unexpected.

Is this revenge for 'The Third Reich 'n Roll'? Or Is it The Real Residents?