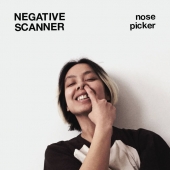 Negative Scanner
Nose Picker
Label: Trouble In Mind
Genre: Rock / Pop
Negative Scanner is: Nick Beaudoin, Tom Cassling, Matthew Revers, and Rebecca Valeriano-Flores.

Nose Picker was tracked by Tom Cassling, mixed with additional tracking by Dave Vettraino, and mastered by Mikey Young.
Cover photo and layout by Rebecca Valeriano-Flores.

Negative Scanner would like to thank the Roe family, Dave Vettraino, Pat Reisinger, Grace Ambrose, TV's Daniel, Mark Winter, and our bandmates.

Limited snot green vinyl.